Tunnel to Viaduct 8K Feb 2, 2019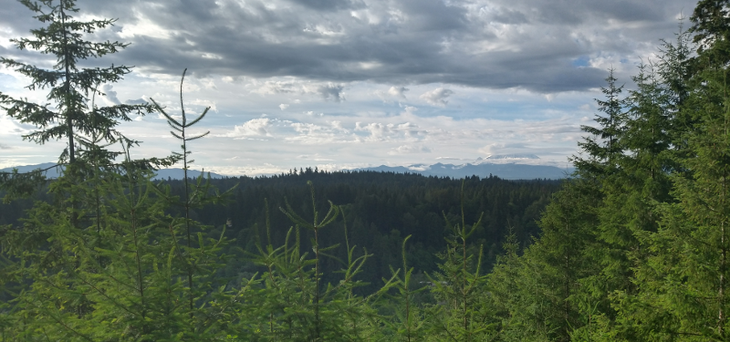 It's several months overdue but here's my race report.
I hadn't really planned to run a race.
I was getting back into running after a break and using the temporary closure of highway 99 as an excuse to run to work. It was only a coincidence that this race was almost the exact distance as the trip from home to work. It was only a coincidence that the race centered around the same event that I was using to start running regularly again. It was only a coincidence that I loved the idea of being able to run on the viaduct before it was torn down and that I'd get to be one of the first groups to run through the new tunnel under the city. With all of the coincidences lining up, I was registered within twenty-four hours of being aware of the race.
The marketing of the race had to have been good because over 29,000 other Seattlites registered. I haven't done any races in Seattle proper so maybe this was normal. For perspective, Grandma's marathon in Duluth, MN(my first marathon) has around 9,500 spots available and still felt like a moderately sized run. This was a lot of people waking up early on Saturday morning, putting on a tech shirt, running shoes, and maybe some body glide to go run five miles. It's always encouraging to see this happening. So many training runs are done in solitary, the tough miles always seem to happen when no one else is around. Seeing this many people show up to do something that you love really makes you feel part of a bigger community.
I found out about the race from a facebook post regarding carpooling. I followed up on the original post and hitched a ride to the start. We met up in front of West Seattle Runner so we all wouldn't have to try and find parking at Seattle Center. We exchanged small talk, compared notes about which wave we were in and complained about traffic and why it had taken so long to build this tunnel. We went our separate ways on arriving. It was hard not to. There were so many people. Luckily, it was well organized. The organizers had made participants pick up their race packets and numbers several days before and that saved a lot of chaos that you'd normally see. It went a little too well, I was able to drop off my bag and had enough time to wait that I wondered if I should have caught a bus and gotten a few more minutes of sleep.
The race course started at went through the new tunnel a short distance from Seattle Center and exited close to the stadiums. It followed some streets through Pioneer Square to get onto the viaduct and follow that back to the Seattle Center. To accommodate the numbers, the participants took off in waves organized by how fast they wanted to run and how late they'd registered. I think one wave would take off every 10 minutes or so. The start was a bit rough. I panicked a bit an ran to use the bathroom at the last minute and ended up running with a wave scheduled after the original. I'm not sure if it was the group, me, or the tunnel, but I went out too fast. Because of missing out on my original wave, I was in the front of the line. The starting pistol went off and I found myself running in the tunnel with the sound of crowd shoes on pavement chasing after me.
This felt fast. It was too fast. I had to slow down,. The point of the race for me was to see the view of the Puget Sound from the viaduct and get a T-shirt. Slow down, I told myself. I'd only been running for a month after a year plus break. Slow down, you'll only get injured if you push too hard, I told myself from experience. It wasn't just the lack of training I was worried about. It was the extra weight on top of that. I easily put on an extra thirty pounds since the last time I was running regularly. The extra speed was causing my left arm to feel like it was flailing. An unrelated surgery the previous year had caused some back muscles to stop working right and the run was exacerbating the issue. Physical therapy had got me back to near normal but It wasn't but things were still off. I tried to focus on form and get my left arm into a good rhythm with my right. It worked and the feeling of flailing subsided.
A small incline convinced my legs to slow down. I left the intensity and panic of the start and started to hear the conversations around me instead of just the pounding of shoes. We'd started to catch up to runners of the previous wave. Others found their paces and and I started to enjoy the scenery. The tunnel was clean and new and the air was warmer and heavier than it had been at the start. The road was perfectly smooth and the signs were clean. The road signs noted upcoming exits to the stadiums, etc. They were clean in that there weren't any tags on them yet or even the evidence of cleaned up tags or even the weathering you'd normally see. Since this was underground, maybe these signs would stay like cleaner longer. I that the small incline was actually long slow climb. Maybe there was a slight decline at the start that I hadn't noticed. I relaxed and started to enjoy the race.
The exit came with a blast of cool air and an overcast sky. We ran a few blocks of through Pioneer Square before getting onto the viaduct. Unlike the tunnel the road was uneven and had potholes. It also had spectators and volunteers on either side of it saying encouraging things and ringing in cowbells. Volunteers stood out in front of the water stop holding Dixie cups loudly proclaiming if the contents were water or gatorade(I took gatorade). The literal and figurative change in atmosphere was refreshing. I was no longer going too fast but I wasn't going too slow either. Well, I was probably going too slow. A fast start almost always has consequences mid race. The absence of gps watch helps me keep from worrying about exact splits too much. If I'm out for a casual run I'll even try to leave my phone at home. It's just nice to completely disconnect from technology. Almost as fast as I finished the gatorade, the race veered onto the onramp to the viaduct.
Plenty of people on the race did not share my philosophy of leaving tech at home. Several groups of runners had stopped to take selfies and group selfies on the viaduct. I'll be honest, this annoys me. It annoys me because I imagine the awkwardness of stopping an smiling, the uncomfortable feeling of squeezing into a group to hold onto a photo smile while the selfie taker lines up the shot. I tell myself that it is not my place to question the genuineness of the selfie takers and focus on the breeze coming off the sound. It was cool and refreshing. For whatever reason, this portion of the race was on the lower section of the double deck viaduct. We were protected from the light rain that was falling but the wind carried the coolness and smell of it as it blew through the elevated roadway.
This was my first and last time being on the viaduct on foot. I drove through it all the time. The 66 year old structure terrified me when I was in a car. I knew it was unstable and not created for the amount of traffic it was taking. Thoughts of the 35W bridge failure in Minneapolis often came to mind when I'd drive through during rush hour. I was a bit less anxious but had not completely let go of the idea of the whole structure suddenly collapsing around us. Moving slowly, you could see the cracks up close, the water damage, the faded graffiti cover ups, the concrete discolorations where repairs had been made. Maybe this race wasn't the best idea, I amused myself by thinking. Off to my right, there was homeless man yelling at runners. It wasn't clear how he'd got onto the course and I couldn't make out what he was saying. After running another 500 feet, I looked to my left and there were a group of police officers standing and looking at the race. Chatter about the homeless guy echoed from their walkies. I'm not sure how it turned out.
The viaduct portion ended faster than I expected. The lower roadway branched away from the upper roadway and we were out in the daylight for a few minutes when we headed into a smaller tunnel. My pace was less steady at this point but I could imagine the finish line and I somehow push my legs to maintain it. The space needle was in sight when we exited the smaller tunnel and I kicked up the pace a tiny bit. And just like that I was crossing the finish.
When I stopped, everything calmed down. I noticed my heart was beating through my chest and it took a minute to catch a breath. This was different than other recent runs of the same distance. The atmosphere of the race had made me push my legs more than I normally would. My time was almost forty-five minutes putting me at a nine minute mile pace. This was probably my slowest short race in recent memory but I was still pretty happy to have done it.
It's been a few months since I ran and I'm still glad I went out. My weight is down about fifteen pounds and I've upped my max long run to fifteen miles. I'm just finished another 8k race and managed to cut five minutes off my time. I'm still not back to were I was but it feels good to be making progress.